DeGeThal Payment System Aims to Take Over the Crypto Exchange Ecosystem
DeGeThal – Missed Binance? Missed Revolut?  This is your next stepping stone. With the crypto world growing fast and steadily,and taking over the markets worldwide, it is only wise to hop in and join the crypto bandwagon. That being said, we would like to introduce to you the all brand new DeGeThal. 
DeGeThal,is a crypto currency that has been built using the latest blockchain technology and is meant to serve each and every person in carrying out their day-to-day  transactions. As such, it is meant to be used as a payment token in the financial ecosystem. With its entry into the market, it seeks to fulfill its goal of ensuring that anyone in the world has the ability to use an affordable global currency. The whole reason behind all these is, the creators of DeGeThal believe that the crypto market growth has not yet reached its ceiling and therefore its development will be used as a viable and reliable substitute to the conventional financial system regardless of the economical, epidemiological or political factors.
It is said that a journey of a thousand miles begins with just a step. DeGeThal's first step was made in the last quarter of 2021 when it was created. It is in this period that the creators are working hard to build the network infrastructure of this new crypto currency as well as creating solutions for their partners. It is in the year 2022 that this currency's prototype is set to be released for use after which it is anticipated to boom in the markets. 
At the moment, a second live presale is ongoing, for those who had missed the first. It does not go on forever however. This being the last, DeGeThal tokens that are on presale have a multilevel bonus that comprises of six stages of increasing bonuses relative to where the presale ends in the following order; 
+5% bonus for presale of  0 – 2000 BNB (ICO learner)

+7.5% bonus for 2000 – 4000 BNB (FUD destroyer)

+10% bonus for 4000 – 6000 BNB (Bullish power)

12.5% bonus for 6000 – 8000 BNB (Hodl champion)

15% bonus for 8000 – 9999 BNB (Legendary whale)

+20% bonus for 10000 BNB (Divine mooning)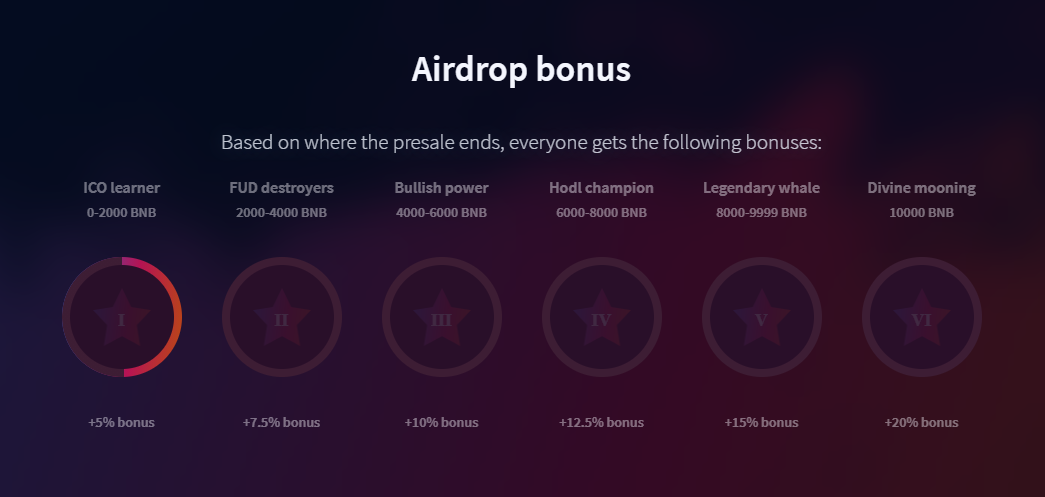 The tokens can be bought from their website: www.degethal.com/presale. Still in the spirit of offers, one can earn 5% of the contribution made by another who has joined from your referral.
FEATURES OF DEGETHAL
Being a currency that is tailored to everyone's need, DeGeThal is making financial services simple and accessible. This is done by bringing together a vast assortment of financial products all in one platform. It links fiat and crypto and all will be available with only a click. More so, the banking license allows it to be deposited with fiat and crypto, which are seamless and quick, allows exchange of assets and even withdrawal at ATMs. This is its multi-currency feature.
Security being something that is of great concern, it has been prioritized. The assets are protected and securely stored to prevent theft of assets in any way by checking procedures to the ones used by superior banks. This does not mean that it is now harder use, no. In fact it is very easy and simple to use. 
As an addition, the funds are accessible through a regulated wallet that provides transparency while still enhancing protection. The access to the wallet is guaranteed and thus one can engage in crypto transactions in real time. Some of the transactions that can be engaged in include but are not limited to paying bills and shopping. 
From the application, one is able to open a bank account in less than one minute whereby the kyc will be required in the next 24 to 48 hours after the account is opened. This is relatively convenient compared to other crypto currencies.
On issues pertaining the Demo App, it can be downloaded from GooglePlay and testing is only limited to the members who are subscribed to the whitelist.
We cannot go without appreciating the efforts that have been put into the making of this phenomenal currency. In that regard, special thanks to the executive team that comprises;
Alin George Luca – Founder and Chief Executive Officer

Tiberiu Nedelea – Chief Marketing Officer

Eugen Tofan – Chief Operating Officer

Peter Barta – Chief Investment Officer

Marian Oancea – Chief Technical Officer

Peter Kazan – Business Advisor

Jan Korevaar – Business Advisor
For more details, the following sites have proved to be useful:
Website: www.degethal.com 
Twitter: https://twitter.com/degetal 
Telegram: https://t.me/DeGeThalOfficial